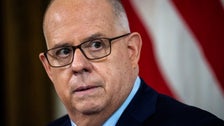 Republican Maryland Gov. Larry Hogan known as Rudy Giuliani's Thursday information convention a "practice wreck" and mentioned it solely distracted from the actual work that have to be completed as President-elect Joe Biden's staff works on the transition from President Donald Trump. 
"I believed it was a practice wreck. … I believed it was completely unbelievable," Hogan mentioned. "On the one hand, it's outrageous. However, it's actually not shocking. … However it's all a sideshow."
Hogan mentioned that "actual progress" was being made, citing conferences he had with Vice President Mike Pence, the coronavirus activity power and members of Biden's incoming administration.
"While you get away from the sideshows of what's happening, … persons are working collectively on the vital points within the nation," Hogan mentioned.
Hogan wrote a July editorial in The Washington Post decrying the president's scattershot COVID-19 response and criticizing Trump for calling South Koreans "horrible folks" in entrance of his spouse, Yumi Hogan, who's of South Korean descent.